You guys all remember this guy, right?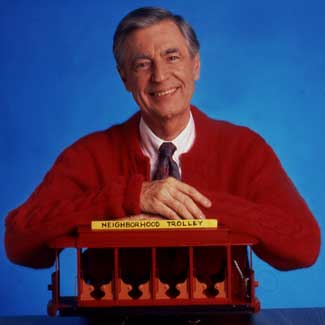 He's one of those rare humans. I don't think anyone ever said a bad thing about him. He was kind. He genuinely cared about people. He wore
sweaters hand knit by his mother
. He created the epitome of wholesome television. He was a little bit of a dork, but didn't everyone want him to be their neighbor? Remember that the basics of Mr. Roger's Neighborhood included trips with the trolley to the Land of Make Believe and in the Land of Make Believe lived many characters including Daniel Striped Tiger.
We recently discovered that there are tons of episodes of Mr. Roger's Neighborhood on Hulu. While I enjoyed watching Mr. Roger's interviewing Eric Carle, they just didn't capture Scout's attention. Frankly, even Sesame Street has had to change its format to be more interactive and faster paced. Some smart people took all of Mr. Roger's characters and created a new animated show called, Daniel Tiger's Neighborhood. I think it premiered last fall.
Daniel Tiger is supposedly the 4 year old son of the original Daniel Striped Tiger (who is also in the show) and they live in the Land of Make Believe with their friends, Katerina Kittycat, O the Owl, Price Wednesday and others.
Scout doesn't watch a lot of tv, and now that it's nice outside she watches even less.* In fact, she doesn't even know about Nickelodeon or the Disney Channel. I don't even know where to find them on the dial. And that's fine by me. Most of her screen time is on the iPad or my phone where she watches a little Barney, Sesame Street, Sid the Science Kid or her current favorite, Daniel Tiger. On mornings when she is home with Rykert, they watch a little PBS Kids while they get ready.
As toddler television goes, I find Daniel Tiger palatable. It's fairly interactive and the content is age appropriate for the 2-4 year old set, and each episode includes these catchy little sing-songy ditty that get stuck in my head endlessly. Sometimes when we're driving in the car or waiting somewhere I'll let her watch Daniel Tiger on my phone (there's a really good app for that). Rykert suggested that we get her a stuffed Daniel Tiger. But it's a fairly new show, so there really isn't much tie-in merchandise available. A Google search indicates that they've made a deal with a toy company, so it's inevitably coming. So I took on the challenge of making a homemade version of Daniel.
It started with Rykert and I spending more time than we'd like to admit looking at pictures online and trying to pick the right yarn colors. We seriously over analyzed this. I got to work knitting using the closest pattern I could find. I adjusted the pattern to knit it in the round, stuffing as I went. I reversed the head to knit the face first, which allowed me to finish the eyes and nose before stuffing. I couldn't get a mouth to look right, so I just left it off for now.
Finally, I knit a little read hoodie and shoes. We don't understand why Daniel Tiger doesn't wear pants.
Uggamugga
It's not perfect, but it was pretty immediately recognized as Daniel thanks, largely, to the red sweater. If I was knitting it again, I'd make the head larger, as I think that would help make him a little more Daniel-like. And I'd redo the face completely. I think his eyes look a wee bit possessed.
*I really don't think there's anything wrong with age appropriate tv. I watched a ton of tv growing up** and I'm guessing that Rykert did too since he knows the theme song to EVERY 80s sitcom. We turned out pretty much ok. And this winter, when she was sick, we watched more than I'd like to admit. But the studies have been pretty convincing about limiting screen time. Plus I don't really want to spend my time with her while she's zoned out in front of a screen.
** Do you guys remember the show Today's Special? Loved that show.