I came upon Scout's costume inspiration by accident while perusing the interwebs. And once the idea hatched, it stuck. And frankly, I think it's important that our girls have strong role models to emulate, and what could be better than a nurse. Though, Scout has no idea about any of that right now. Nurse, lawyer, businesswoman, president, scientist, astronaut, doctor? I think these are fantastic, though admittedly not as popular or glitzy, costume ideas. I could segue into a conversation here about princess culture, but I won't. Did you see The Office last week? Pam was a princess gynecologist. I'm no fool; I know there will be princesses in our future when I no longer get to make unilateral costume edicts.
Once I found my inspiration for this year's costume, I went to work.
My first step was to do a little curiosity research. What's up with those nurse caps? And why the capes? I learned that the nurse uniform played a historically important role in the establishment of nursing as a profession. The nursing uniform has evolved in an attempt to keep up with the times (or during war times to use what items were on hand), but ultimately the idea was to create a uniform so that one was easily identifiable as a nurse and also for hygienic reasons (there's no mistaking when whites are covered in bodily fluids). The caps evolved from nuns habits as nuns were some of the first to provide nursing care to the sick and dying and then were used to keep a nurse's hair neatly in place. The capes were just plain stylish and popular for a time. A white dress and cap is a far cry from what Rykert wears to work on a nightly basis, but modern nursing uniforms seem far more practical. I wouldn't' want to be responsible for keeping those whites sparkling.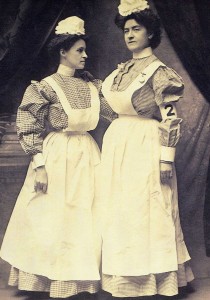 Next I started thinking about a pattern. I wanted it to be a shirt dress, but the idea of sewing all of those button holes and buttons was unappealing, to say the least. I found a shortcut, and decided to start with a men's dress shirt. I found a XXXL shirt at the consignment store. You could use a smaller shirt. I could have easily made the dress using a men's large (maybe even a medium) sized shirt, but it would not have the really full, twirly skirt that I was looking for. I also could have used two shirts seamed together to create a fuller skirt, but that would require finding two matching shirts (of the same weight, fabric, etc.). Using the bigger shirt was, by far, the easiest way to make the skirt nice and full. After washing and bleaching the shirt, I very carefully removed the pocket. Bonus points if your shirt doesn't have pockets to start with. In retrospect I should have done this before I washed the shirt to help even out the stitching holes. A pocket will get in the way when you cut out the bodice front.
Basically, I cut the shirt like this.
Full disclosure: this isn't the shirt used for the final dress.
I had one false start. Measure once; cut twice?
I cut and assembled the bodice using a pattern I already had on hand.
This one
, to be exact.
I was able to cut both sleeves from one of the shirt sleeves. I used the other sleeve to cut the dress's sleeve bands and the collar pieces.

For the skirt, I initially tried to do a gathered skirt, but the truth is that I HATE gathering. I always pull the wrong thread and break it before I even get started. Plus I prefer the look of pleats. So I measured and marked 1" increments around the dress and then did symmetrical pleats until it was approximately the same circumference as the finished bodice. I fudged it a bit, but you honestly can't tell. I finished raw edges with the serger, hemmed, and it was done. I really like this dress, and am considering looking for more shirts in patterns or colors. I think it would be cute in denim or chambray with some bright colored leggings.
The red cross is just a bit of wool felt hand stitched in place (and I'm not sure it will survive the post-Halloween stain treatment). To give the dress a little more ooomph, I put a store-bought white petticoat slip underneath (similar to
this
). The slip was also nice because the shirt that I used was a bit thin, and I didn't feel like fussing with lining.
White cotton tights and the whitest (though actually glittery silver) shoes we owned, and she was ready. I was >< (this) close to taking her to the hospital for a photo shoot, but I thought we'd probably be in the way of actual nurses and people who needed care.
The cape.
The cape is essentially a giant circle with smaller hole in the middle, one radius cut, a peter pan collar, and lined in a lovely red polka dotted cotton. The navy blue is just a cheap poly-blend bottomweight. There's a great
tutorial here
. A little button fab closes it up. I do my sewing after she goes to bed at night, so I didn't have a chance to try any of these pieces on her as I went. I guessed on the measurements of the cape, and if I had a do-over, I'd make the neck opening smaller. But it worked.
The cap
. This was so simple. We had a real, actual nurse's cap that
Rykert wore for Halloween years ago
. I unsnapped it, traced the shape, and then downsized. I made the cap our of craft foam and then put it together with a couple of brad fasteners. I never got around to putting a red cross on it to really scream, "I'm a nurse!" She HATED it and would say, "No hat mama," every time I picked it up. So this is as close as we got to getting a picture of her wearing it.